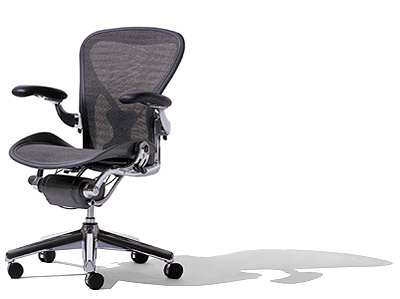 How much do you think that chair costs? Very minimalist, isn't it? Well, go ahead and search for it on Google. You'll see prices ranging from $80 up to $500 for chairs that look like that picture. Yes, you can own that chair for a mere few hundreds of dollars. One or two on average. The price here at the store on campus? $999.00. That's right, we get to pay a thousand dollars for a chair that we could buy online and ship it from a third world country to the US back to another third world country just for fun for less than the cost of buying it right here on campus.
But that's not the funny bit. The same day I discovered the price of these chairs, I saw not one, not two, but 16 of them lined up in the Visualization and Digital Imaging Lab (VDIL) in front of their shiny 3-foot LCD screen. They're supposed to keep up with the latest technology for... well, visualization and digital imaging, and by the standards the bookstore sets, they're spending $16,000 on chairs. With that kind of money they could buy two of these. That's a 65" better-than-HD-capable plasma screen. Two of them! If they could just ask their visitors to remain standing while watching their ten-minute show, they could show it on a much larger screen. Or even better, not one, not two, but five of these. The image is the back of the product, which shows the I/O panel, just to get a handle on how big it is. It's 73".
And it's not like they had to get those chairs. There were other perfectly good looking chairs available at a fraction of the cost of those. They chose the absolute most expensive chair in the store. Not that they actually bought them from the same store I saw them in, but it was indeed the most expensive chair out of a selection of four office chairs.
My "facilities" fee hard at work!