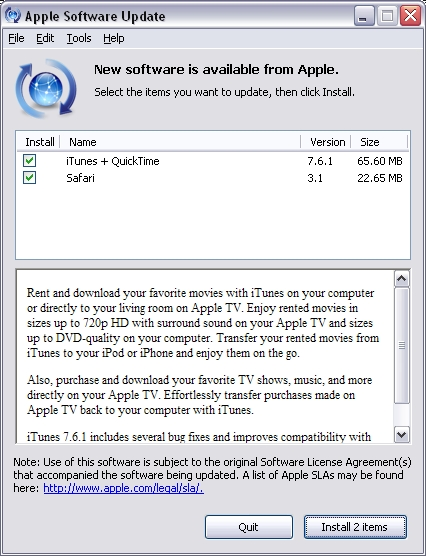 I got this dialog while working on my computer a few days ago. I have Quicktime installed, as becomes necessary when viewing movies online. Apparently, Quickime comes with an automatic software updater, which is fine. Windows does that too. Firefox does that too. Adobe Reader does that too. It's not that strange. The fact that it randomly pops up when I log in annoys me, because that means it's set to run on startup, which is something that I did not explicitly set, and it's not critical for Quicktime's running that the update be performed on startup. In fact, the only software that should ever be updated when starting Windows is Windows. All other programs can and should check for updates when the program runs. Prime example: Firefox.
What really gets me though, what's really annoying, is the fact that it's not just saying I need to update to the latest version of Quicktime. It's saying that I need to download the latest version of Quicktime, which requires the installation of iTunes, and by the way, here's our proprietary web browser, in case you don't have one. First of all, I have Windows Media Player, and I find that it works for me just fine, and no, I don't need to buy music from your store, and no, I don't own or want to own an iPod. Second, why would anybody want to install a new browser on a whim? They've already got one they use and are used to, and probably like. The only times people install new browsers are:
You got a new computer, and you're getting your old browser back.
A website says your browser is incompatible, but these days if a website says that, they're just not trying very hard and I wouldn't bother visiting again.
You've found the inadequacies of your browser are too great, and you've heard about this great new browser that fixes everything, so you'll try that.
You're a web developer, and you need to test your designs on all major browsers.
Notice that none of those items are "You forgot to uncheck the option to install it by default when installing an unrelated piece of software".
If I weren't paying attention, I would have accidentally installed Safari, the Apple web browser, it would have set itself as the default browser, and I'd be... *ahem*... annoyed.
There's no insistence on Apple's part that it be installed. They don't make money from it if I installed an extra copy of Safari. It's free. The only reason it's on there is because they see a low market share of people using Safari. Why? Because it's a product developed for MacOS, and the market share of MacOS is approximately equal. If they want to increase the market share of their browser (for no monetary gain???) don't automate its installation: Make it better than the other browsers around. Then people will install it themselves!
But no. The next step I fear is that Apple might bundle all three products together, such that if you want Quicktime, you have to have Safari installed. You don't have to use it, but you have to install it, and it will be used by default. It'll end up being just like Internet Explorer and Windows, too tightly coupled to remove, even if you don't ever touch the Internet.