For ahwhile lately, my dreams have been so very pedestrian or entirely disenchanting about the politics of dream world. They usually end up being the sort that relegate the telling to the back of the line of Seedless Grapes.
But some strange set of circumstances involving going to bed too late after having three Thanksgivings in as many days, and having just tired yourself out by playing far too much of your brand new Wii, coinciding with the hysteria brought on from traveling across the state every day and, of course, the phenytoin sodium, leads to... issues.
The most important part, I suppose, happens after a bunch of the normal dream stuff. You know, nude gay porn (Surprisingly not NSFW, which, I guess, is SFW), or whatever it is normal people dream about. It was when I was playing a game on a computer in a pitch black room. I had a life signs detector (in the game) and found two tubes with some strange readings. Upon opening it up, I found a fetus. So I squashed it. Then another was dropped down from the tube. And that one was harder to squash, but I eventually managed. Then, an alien baby pops out (although they are all in pods, I can tell, because I have X-Ray vision. Not in the game, mind you, just in real life (in the dream) which allows me to see through pods in a video game). After squashing that one, a large electrical beam pops out, and I am confused. Is it something sitting in the tube, or is it now stuck to my face? As I move around in the game, there is now this blue line that looks like a bolt of lighting stuck to the upper left quadrant of the screen. Then another few pop out and it creates a triangle.
Things start to get strange as the background fades out and evil laughter comes from the speakers and dark faces appear on the screen. I finally reach the power button on the monitor, but the blue lines done go away. I felt the screen, and the blue lines have created physical indentations on the screen. Of course, I'm annoyed, because that was a perfectly good monitor, but now I have no idea why that blue lightning is still there.
Then I woke up to find that it was in fact the edge around the blinds of the window I was staring at.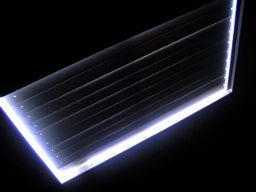 So apparently, I have learned to sleep with my eyes open, although it doesn't help because even when I DO see something, I don't wake up anyway.