So, I started playing Star Wars Galactic Battlegrounds again recently, and, knowing Aurabesh, the Basic alphabet from Star Wars, I decided to decipher some text in the game.
Basically, before each scenario, a commander is outlining what you have to do, and it does this via audio and English text at the top of the screen. The rest of the screen is filled with an image pertaining to the previous battle or the next battle. This has diagrams, and lines pointing to things, and Aurabesh labels, which you're not supposed to be able to read.
But I can. Of course.
My Aurabesh, however, is a little rusty. I can't read it quite as fast as I can English. I have to read each letter separately and then parse it as a word. Unfortunately, each of these displays only shows up for a short time. I've tried viewing the pictures outside the game, but the pallet doesn't match, so that doesn't help. I've tried doing a screen capture (both with print screen and via a desktop recording program) but both of those end up with the wrong pallet too. So I had to resort to taking a picture of my computer screen with a digital camera and decipher it from there. It's a fun little game.
The first image here, as you can see, is very blurry. I don't have that good a camera. It came free with my printer.
So I had to overlay that with Aurabesh text, just to ensure I was getting the right characters. Here, you can see I've created textboxes that overlay the text in the image with a much cleaner edge to the font.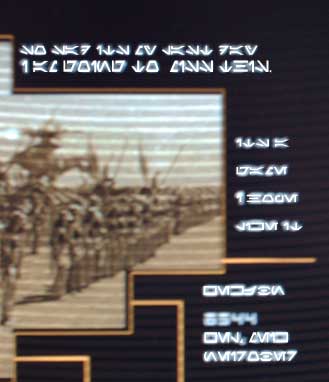 And finally, you can see the text translated back into English.
I don't know what a neirober is, but it must be vitally important to the Gungans. In any case, this process it so very tedious, it's annoying that I can't just view the images outside the game to see what they ALL say. There are about 2 per mission, 9 missions per civilization, and 8 civilizations. That's 144 screens of easter eggs I'm missing out on!