So, we have decided what we are going to do with favors. Ed came up with the idea of M&Ms because they are easy and our monogram is going to be an M, which is perfect because every piece of candy will be marked with our wonderful initial!
So, anyway, while we were at Target a few weeks ago we saw bags of just pink M&Ms. We thought that was fabulous! We figured if we bought pink M&Ms this season (they are out because of breast cancer awareness month. Which is weird because why wouldn't they choose February? February is a very pink month. Anyway, that's off the topic...)and buy green ones come March during St. Patty's Day, we would be set.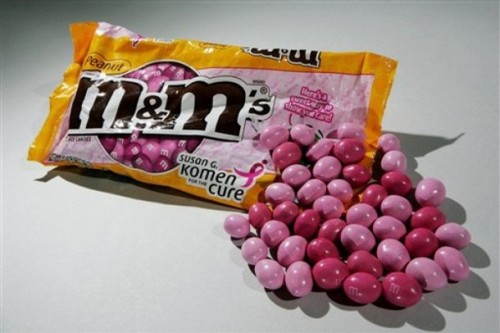 These are the ones we got but without the peanuts
So, I went and bought several bags, and when I say several I mean 20 bags. Right now they are sitting in the bottom of my freezer and we are not allowed to touch them. We got 14oz of M&Ms for $2 versus ordering special colors on line for $6.99 for 7oz. I think we got the better deal here.
Now we just have to hold onto these bags of M&Ms for 8 months and hope the drawer to my freezer doesn't freeze shut!