So, after I took Ed to work today, I stopped by Cub Foods because I had a coupon that was going to expire soon and I needed to use it. Well, I was walking around and decided to go and look at the seasonal aisle. This means when it's Halloween there's Halloween candy and at Christmas there's Christmas candy. Now that it's after Christmas it's Valentine's candy. I didn't expect to find what I did. I found green M&Ms. I was not expecting to find any there. I mean, green is not a traditional Valentine's day color. I figured they were going to be mint M&Ms or a bag that isn't all green. Well, they are all green and milk chocolate!
So, now we have all the chocolate we need for our favors. All we need now is boxes or pouches so we can package the chocolate along with ribbon and a thank you note to our guests. As of now, we have 40 bags of M&Ms in our freezer. It may seem like a lot but if we go by the serving amount on the package, we will get roughly 300 favors, which is more then we are inviting but we can put them out for people to take at the dance. I rather have plenty of extra rather than not enough. Below is a photo of our freezer. There wasn't enough room in the drawer to put the green ones so I had to clear out the top and place the green ones in the bottom of the deep freeze. Here's a photo of all our M&Ms.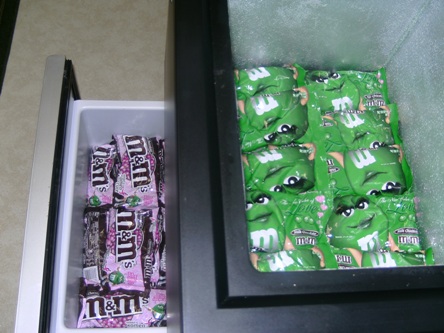 I hope everyone likes milk chocolate M&Ms!