Well, it's been a while but a lot has been happening. This is a busy week for us here in Eden Prairie. Today we are going to go apply for our marriage license,on Thursday we are going to close on our new house and on Saturday is my bridal shower in Truman (at 9:30am... at the Truman Church of Christ... if your interested).
I have been packing for the last week or so. This is going to be the last move for quite a while because we have so much stuff but we don't have enough furniture to fill our new house... I guess it's time to go shopping!I will be starting the projects at the new home. The big project on my schedule is the wallpaper in the upstairs bathroom... seriously, who uses wallpaper? I would also like to paint the upstairs bathroom, downstairs bathroom, downstairs bedroom, and downstairs family room. That's a lot of painting but I guess I have some time on my hands. I will be be pulling the wallpaper down on Friday, if you're reading this and interested in helping, I will be at the new house.
The wedding is in 6 weeks and we still need more RSVPs! So far we have 45 confirmed guests and about 25 who have declined. That's not very many compared to how many we invited. So, if you're still reading this, and you know you haven't RSVP'd, please do so! There is online RSVP available, just click the link on the right and use the name/code at the bottom of the RSVP card! It's easy and Ed would love it because he created the program.
Well, I'm really all over the place in the post so I better go so I can get my thoughts in order. I'm going to leave you with this comic since my shower is coming up.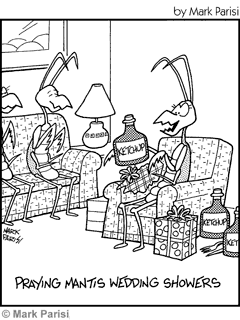 I like Ketchup... but not that much