Well, the deadline for RSVP was yesterday. If you haven't done it please, please, please do it. Even if you can't make it just let us know. It's worse to not know whether someone is coming or not and they end up showing up and we don't have food for them. We are having a sit down served dinner and we need to know accurate numbers. So, if you are on this website, I'm assuming that you are going to RSVP right now. You can come back to the website after you are done RSVP-ing and read the rest of the posts.
Now, be glad that our RSVPs didn't have this on the card although I find it amusing.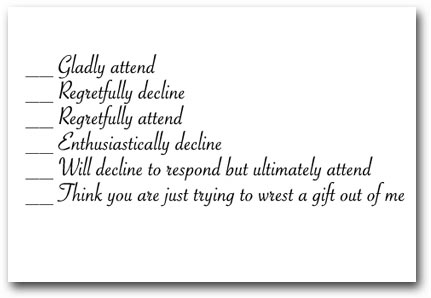 Maybe we should have sent the card like this. Anywho, Please RSVP if you haven't done it yet. Thanks!